Better late than never, just got back from
Arno Bay
where my internet access was nil.
I'm posting this flower for Photo Feature Friday with Tricia at
A Rosie Note
.
I already had a look at the other lovely images, click on the button below and see for yourself.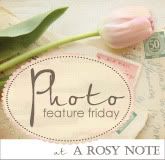 The weekend has been so hectic, I am going to use this photo for 'I heart macro'
with Lory at Studio Waterstone.